Colloquium: SLanguages
EduNation, Second Life, 23 June 2007
Organised by Gavin Dudeney of the Consultants-E, the First Annual Second Life Language Teaching Colloquium took place on EduNation last Saturday. With a little over 50 registered participants from around the globe, it was a chance for educators to share their experience of teaching in SL – and was, in itself, a great advertisement for the educational potential of virtual worlds.
During his opening speech, Gavin warned of the limitations and dangers of both old functional (teaching) models and new business models applied to language learning in SL. However, there are some interesting developments underway, as this colloquium amply illustrated.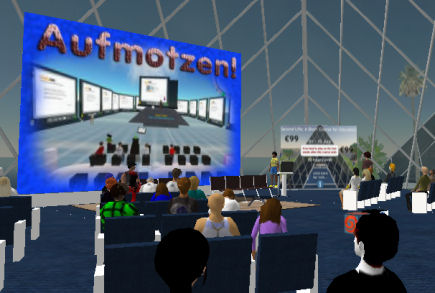 The first presentation of the day was from Paul Preibisch and Kip Boahn (see image above), who described their innovative work on the English Village Project, the largest languages group in SL. The pros and cons of a number of teaching formats were discussed:
1:1 (relatively problem-free, allowing teachers to move around with students);
small group + 1 teacher (where the ideal number may be 2-3 students);
large group + more than 1 teacher (where matching teaching styles may be an issue);
team teaching (where students benefit from the experience of different teachers);
guided self-study (a promising development; Sloodle seems to be moving this way).
Kip concluded with a series of suggestions aimed at the "Aufmotzen" (dolling up) of SL. He suggested that SL shouldn't be seen as a solution for everything but as part of a suite of tools. Some aspects of SL still require improvement and more interesting in-world tools are needed. Meanwhile, Sloodle may represent a way forward, and many other web 2.0 tools can be integrated into SL. He also stressed that there is a real need for community – that both teachers and students need to bond around the educational process – and that location is key to creating a sense of community.

.
Hugh O'Donnell (see image above) then spoke about the Scottish Secondary Sector, stressing that virtual worlds have a great deal to offer in connecting students in remote locations, without necessitating long hours of travel. There are many educational possibilities – from an avatar of Keats posing questions on his own poems to involving living artists who could interact with students – and ideally there would be in-world travel between schools on the teen grid. However, he acknowledged that there are many problems to overcome, not least of all problems of image: it's necessary to explode the myths of SL (like those of the internet before it) which suggest that it's just the province of unsalubrious characters …
Nik Peachey, who spoke on Designing a Language Course for SL, began by asking what theory might underpin learning through gaming. His answer was 1960s flow theory, which suggests that certain key elements – such as concentration on clearly articulated goals, availability of feedback, deep but effortless involvement, a loss of self-consciousness and the development of an altered sense of time – can contribute to learning in an optimal way. He referred also to Prensky's work on digital natives, but argued that the old ways of teaching (notably lectures) had actually never been effective. Now, however, we have the tools to easily change these old modes of education.
Although SL is not a game, he suggested that it can be used like one, with tasks designed with the principles of flow theory in mind. In a partial echo of Preibisch and Boahn's presentation, he indicated that one of the major reasons for the success of games, and the learning that takes place within them, is the presence of community. It's important that we design tasks with collaborative principles in mind. A residential distance learning course, where students could "live" and socialise in a communal space outside of class time, might be ideal.
Many standard communicative activities lend themselves to use in language teaching in SL, most notably roleplays since, after all, SL is a roleplay. However, we should beware of imposing too many layers; to have a student playing an avatar playing a character might be too much. Roleplays, Peachey advised, should be more like jazz improvisation than Wagnerian opera, with students allowed a degree of control and flexibility.
Some of the problems he outlined at the conclusion of his talk include:
presenting language in-world is difficult;
the teacher's paralinguistic cues are absent;
there is a loss of student reaction;
we are building on quicksand in the sense that the SL environment is constantly changing.
For more information, see the Tips for language learning materials design in Second Life on Nik's own blog.
By the time these talks were over and the poster session began, to be followed by virtual lunch, it was rather late on the west coast of Australia so I took my leave. However, there's no doubt that there are plenty of inspiring educational developments in SL being driven by real enthusiasts. It's a case of watch this space – closely – in the weeks, months and years to come. Indeed, as Gavin mentioned in a summary talk, it's not unthinkable that the day will arrive when the internet as a whole comes to resemble a virtual world which we navigate with the help of avatars. It's good to get a sense of just how much educational potential there may be in such a development.
Tag: slanguages2007