8th CamTESOL Conference
Phnom Penh, Cambodia
25-26 February, 2012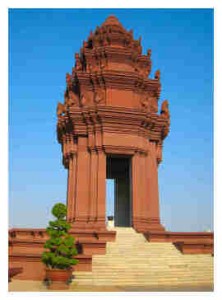 It was great to have a chance to present at the 8th annual CamTESOL Conference in Phnom Penh, Cambodia. Educators from around the region gathered together for two days to share insights from their classrooms. The fact that there was a stream dedicated to Using Technology suggests that new technologies are making inroads into many TESOL classrooms around South-East Asia.
In her opening plenary, The Many Faces of Development in the Classroom, Janet Orr spoke about the degree of development that has occurred in Cambodia over recent years and outlined the ways in which English is becoming important in various ways in the country. She indicated the kinds of practical classroom activities teachers can do to promote language learning, drawing on the use of language in Cambodia itself which, she argued, may be more relevant to students than textbook examples. Unfortunately a 10 minute power cut around 10 minutes into the plenary cut it short – a reminder of the challenges faced by teachers in many parts of the world, especially when it comes to the use of new technologies.
Gavin Dudeney and I ran a workshop called Digital Literacies: Teachers and Learners, in which we introduced the general concept of digital literacies, explained the four-part classification of digital literacies we have developed, and then focused in more detail on one form of literacy from each category: multimedia literacy, information literacy, intercultural literacy, and remix literacy. We offered a number of suggestions as to how to work with each of these literacies in everyday classroom practice. The audience actively responded to our discussion prompts, suggesting that a lot of teachers are starting to think about the use and value of digital literacies and how they might introduce them into language classrooms. The key point we hoped to convey was that it is possible to teach language and traditional literacy skills at the same time as we teach digital literacies: the key is to integrate the old with the new.
In their presentation, Learning Beyond the Classroom: Using Facebook to Facilitate the Informal Learning of English Communication, Chris Harwood and Brad Blackstone spoke about the use of Facebook to support English language courses in Singapore.  They referred to Tina Barseghian's 2011 50 Reasons to Integrate Facebook into Your Classroom, with these reasons including increased collaboration, knowledge sharing and feedback. They contextualised their use of Facebook with reference to the work of Daniel Bernstein, who has spoken about the distinctive qualities of students today, notably their affinity for technology; connectedness with others; visual orientation to the world; flexible attention; and personal meaning as motivation. In short, students are constantly plugged in and constantly communicating online, and this can be leveraged for educational purposes. They also drew on George Siemens' 4 principles of connectivism:
Learning and knowledge rest in diversity of opinions.
Learning is a process of connecting specialised nodes or information sources.
Nurturing and maintaining connections is needed to facilitate continual learning.
Ability to see connections between fields, ideas, and concepts is a core skill.
They set up Facebook pages (rather than groups) as platforms for students' informal interactions outside class.  For example, students posted references to useful online resources and responded to each other's postings.  Conversations occurring online led to in-class conversations: when a student posted a link about Prezi, for instance, an in-class discussion occurred because other students hadn't heard of it. Students were also using the Facebook page, following up on links and watching videos, on mobile devices while taking public transport.  Students from past semesters would return to 'like' or comment on materials posted by current students, and teachers could use links collected by past cohorts as a base for new cohorts to build on. Challenges included the overlap with students' private worlds; uneven participation; keeping the wall 'academic'; and, in particular, the posting of inappropriate content and/or opinions. Dealing with the last of these issues did, however, lead to important in-class discussions about online etiquette.
In the presentation, Using a Free Course Management System in an English Class: Moodle in a Grammar Class, Yi-Chen Lu reported on four semesters of using Moodle for English teaching in Taiwan, and explained the mechanics of working with this virtual learning environment. Much of the learning was automated, with students carrying out language learning activities independently. It was reported that the use of Moodle was found to improve students' learning and motivation, but its value for monitoring their progress was also stressed. In addition, a VLE such as Moodle offers flexibility when students are unable to attend class.
As I needed to head off to teach a course in Bangkok, I was unable to stay for the whole conference but the glimpse I gained of developments in technology-enhanced education in the region was fascinating. It will be interesting to watch developments in this area over coming years.