Conference: SLanguages 2008
EduNation II & III, Second Life, 23-24 May 2008
This year's SLanguages Conference, the second in the annual series, shows just how far we've come – technologically and pedagogically – since the first conference in 2007. With an extensive programme, sessions were split across two venues in EduNation II and EduNation III.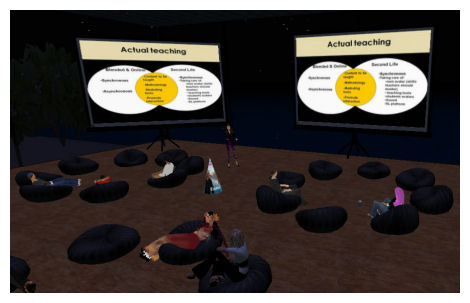 On the technological side, many of the limitations of 2007 had disappeared. In 2008 there were far more presenters (over 20 as compared to 5 in 2007), far more attendees (over 300 registered as compared to 50 in 2007), and there was almost unimpeded voice chat between participants before and after each session. (For more on the numbers, see the comment posted by Gavin Dudeney, Conference organiser, at the end of this blog entry).
On the pedagogical side: the degree to which our pedagogical understanding of SL has advanced can be seen in the range of topics addressed in the different papers, and the wealth of perspectives and practices outlined there. There are some incredibly innovative uses of SL underway in educational institutions stretched across the globe.
And something has to be said about multitasking as well: this blog was being written and published piece by piece during the conference itself, and Gavin's comment on it appeared during this process (i.e., during the conference, as will be obvious if you read it). Email announcements of starting times for talks were sent out regularly, so that checking your inbox was a good way of making sure you didn't miss anything. It was also only a few minutes after watching Paul Preibisch's talk on EduNation that I messaged him in Facebook – and received a reply within minutes. This is a great illustration of the multichannel communication which is increasingly becoming the norm in this area!
Given international time differences, I couldn't see nearly as many papers as I would have liked, but I was able to be present at a selection of very informative sessions.
In her talk "Teaching Training: Second Life vs. Online/Blended Courses" (see image at top of posting), Dafne Gonzalez (SL: Daf Smirnov) contrasted what is now seen as 'more traditional' web-based teacher training with newer forms of teacher training in virtual worlds. She presented an elegant series of Venn diagrams showing some points of similarity alongside numerous areas of contrast.

In his talk "Bots for Educators!" (image above), Paul Preibisch (SL: Fire Centaur) explained the role that could be played by bots in language teaching and learning areas of SL. Bots are automated avatars which can give simple responses to visitors, illustrating language usage in the process. They are already being used to give students grammar guidance by reformulating erroneous questions.
In the plenary talk "Motivated Interactions in Second Life" (image above), Chris Surridge (SL: Christopher Flow) presented a whole range of tasks – or "missions" – which can be set for student avatars in SL. Students reported that the more challenging missions, which were more game-like, were also more interesting. Chris pointed out that even when they were 'cheating' to complete the missions, students were in fact learning.
In his talk "Second Life in Conservative Societies: Considerations from the Middle East" (images above & below), Mark Karstad (SL: Buy Short) used the example of Dubai Women's College to illustrate the importance of balancing technology and cultural values. There is a requirement, for example, that teachers avoid taking students to places where there are 'skin' images – though in fact students in many cases choose NOT to be covered in SL. Even conservative students feel quite free, he suggested, in how they are willing to represent themselves through their avatars, often dressing more as they would in their homes. Interestingly, one student was admonished by another avatar when she appeared, uncovered, at the model of Mecca in Islam Online.
There was a sense at the colloquium that in some ways virtual worlds, which have been at the cutting edge of web technology for some time, are now pushing beyond the boundaries of what we can reasonably call web 2.0. Are we in fact witnessing the emergence of web 3.0? I guess we'll need to watch this space … and turn up for SLanguages 2009!
Tags: SLanguages2008, virtual world, Second Life, education, TESOL, language teaching, language learning